Overview section
Campaign Finance section
Economic Ideas section
Military Budget section
Entitlements section
Globalization section
Unions section
The Death Penalty section
Courts and Prisons section
Politics Of Sex section
Immigration section
Abortion section
Breaking up the huge tech corporations section

My Terrorism page
My Manned Space Program page
My Drugs page
My Taxes page
My US Federal Government page (and my "Restructuring the US Federal Government" page)
My USA Health Care System page
My Guns page
My Consumption and Energy page (and my Nuclear Energy page)
My Electronic Voting Machines page


---
---
Overview


What we (in the USA) should do about:


From the pilot episode of "Newsroom", a new series on HBO:

[America is] not the greatest country in the world, professor. ... [Addressing conservative] And with a straight face, you're going to tell students that America is so star-spangled awesome that we're the only ones in the world who have freedom? Canada has freedom. Japan has freedom. The UK, France, Italy, Germany, Spain, Australia! Belgium! has freedom. So, 207 sovereign states in the world and 180 of them have freedom. And yeah, you, sorority girl. Just in case you ever wander into a voting booth one day, there's some things you should know and one of them is: there is absolutely no evidence to support the statement that we are the greatest country in the world. We're 7th in literacy, 27th in math, 22nd in science, 49th in life expectancy, 179th in infant mortality, 3rd in median household income, 4th in exports. We lead the world in only 3 categories: Number of incarcerated citizens per capita, number of adults who believe angels are real, and defense spending - where we spend more than the next 26 countries combined, 25 of whom are allies. ...

Les Leopold's "Big Lie: America Doesn't Have #1 Richest Middle-Class in the World ... We're Ranked 27th!"
Mark Manson's "10 Things Most Americans Don't Know About America"
Laudan Aron's "Why Is the United States So Sick?"
Ryan Cooper's "Why is it so expensive to build a bridge in America?"



I wish we could cast "advisory votes" in national elections.
"Should marijuana be legalized ?"
"Should gay marriage be legal ?"
"Should we build a high-tech fence on the Mexican border ?"
"Should we ban all private ownership of guns ?"
Sort of an official poll.

Perhaps people should have to pass a test before being allowed to file as candidate for elected office. Test them on basics of the Constitution, the legal system, the powers and rules of the office they're running for, maybe how to read a budget, maybe how the tax system works.



Matthew Yglesias's "How to Save the Post Office"




---
---
Campaign Finance


Public financing of political campaigns is bad because:
From /u/Mnementh2230 on reddit:

Attempting to regulate "soft money" and PACs and such has just led to complexity and abuses.

My proposal:
Text of my proposed Constitutional amendment:

Congress or any State may regulate or limit or tax paid political speech or actions or lobbying or campaigning, and contributions to such efforts, which includes money or time or effort by any person or entity or group or organization or party in support of any candidate or party or political position or governmental issue.

Similar: Move to Amend's "Proposed 28th Amendment to the Constitution"

But: Lee Fang's "Where Have All the Lobbyists Gone?"

William G. Howell and Terry M. Moe's "This is why Congress is a disaster"




---
---
Economic Ideas
USA policy ideas:


From Joshua Holland interview of David Cay Johnston 10/2013:


Ideas that WOULDN'T work:


How to fix income/wealth inequality:



---
---
US Military / Intel / Security Budget


Mission-type changes:
Other changes:
We can live with a less-capable military. (Maybe that would mean losing more soldiers in future wars; but maybe it would make us less eager to start future wars. And even the hugest military imaginable can not make us completely safe; there's no such thing as completely safe.)

David Brodwin's "How to Safely Cut U.S. Defense Spending"
Benjamin H. Friedman and Christopher Preble's "A Plan to Cut Military Spending"
Jill Lepore's "How much military is enough?"
Henry Blodget's "Yes, Of Course We Should Cut Military Spending!"
Eric Schnurer's "Can the Defense Budget Shrink Without Risking National Security?"
Kyle Mizokami's "Why the Chinese military is only a paper dragon"
William Hartung's "America is still fighting the Cold War: Why its military 'strategy' is hopeless"
Damon Linker's "The paranoid delusions behind American foreign policy"


From Jill Lepore's "How much military is enough?" 1/2013:
From Anna Mulrine Grobe's "Why Trump says the state of US military is a 'disaster'" 11/2016:
Wikipedia - Military budget
Wikipedia - Inflation Adjusted Defense Spending
Mandy Smithberger's "America's $1 Trillion National Security Budget"
Business Insider's "The 35 Most Powerful Militaries In The World"
Dana Priest and William M. Arkin's "Top Secret America"

A small rant: Many "conservatives" say they favor smaller govt, and will talk all day about details of welfare programs and exactly what should be cut. But ask them what should be cut from the military/intel/security budget, and all they can come up with is the mythical "waste", and then "ooh, we should leave choices up to the experts, the Joint Chiefs, non-experts shouldn't even discuss cuts to the military". Hypocritical. And Reagan and G W Bush also were hypocrites: said they wanted smaller govt, but then made it bigger, mostly by expanding the military.



Argument in favor of a huge US military,
from Reihan Salam's "Why I Am Still a Neocon":

From /u/GTFErinyes on reddit 2/2017:

Spencer Ackerman's "General Dan Bolger says what the US does not want to hear: Why We Lost"

Veneration of the military:


Adam Weinstein's "Most Veterans Say America's Wars Are a Waste. No One's Listening to Them."




---
---
US Entitlements Budget


What are "entitlements" ?


Why entitlements are good:


How big is entitlement spending ?


Factors that pushed up entitlement spending, both under Obama and long-term:


How to fix entitlement spending:


Things that wouldn't work:









---
---
Globalization


Great podcast about this: Richard Fidler interview of Michael Casey, July 2012.


Globalization has been good:
The world's trading and economies have become distorted:


From Thomas Friedman's "The Lexus and the Olive Tree" (1999) (on Amazon - paid link
):
Suppose we tried to reverse globalization ?

From discussion on reddit:



From Charles Duhigg and Keth Bradsher's "How the U.S. Lost Out on iPhone Work":


My reasoning about job loss:
From Bill Bryson's "Notes from a Big Country" (on Amazon - paid link
):
From Daniel W. Drezner's "Donald Trump's Big Lie about the global economy":


From /u/bukkakesasuke on reddit:



Interesting article, tracing NAFTA from Reagan to G H W Bush to Bill Clinton:
Paul Rosenberg's "Own up to NAFTA, Democrats: Trump is right that the terrible trade pact was Bill Clinton's baby"

Angelo Young's "The BS behind NAFTA and TPP: The economic benefits of free-trade deals are small according to a new congressional report"



By the way, it is in Russia's interest to manipulate the US population into opposing globalization. Russia has a relatively small economy, and exports are mainly fossil fuels and food. Strong trade links among USA, China, India, EU, etc lead to stronger alliances in other ways (military, human rights, pro-democracy, etc). So part of Russia's push to weaken USA and democracies in general may include encouraging anti-globalization sentiment.



Zachary Karabell's "The 'Made in China' Fallacy"
Derek Thompson's "A World Without Work"
The Week's "The mystery of America's missing male workers"
The One Ring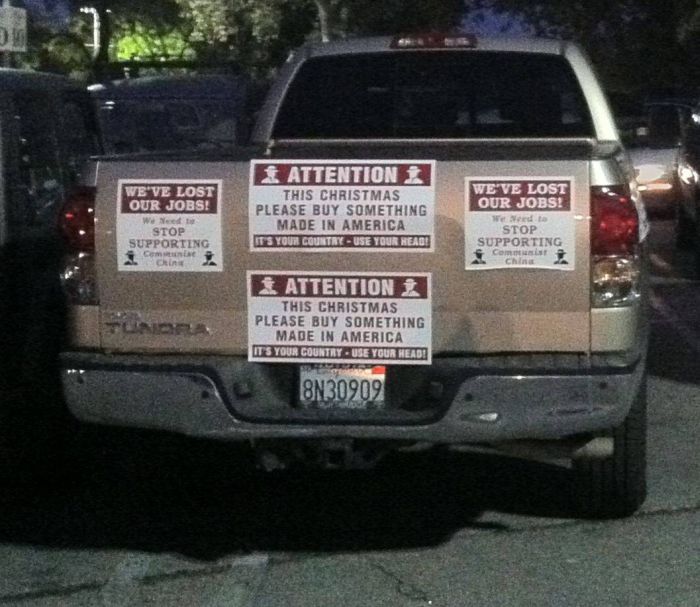 ---
---
Unions

All good stuff. But then they went too far, and decided to tell businesses what level of staffing they had to have, every detail of how the job would be done, every detail of benefits and pay, that they could never close old factories, that they had to get union buy-in on every decision. There has to be a happy medium: unions allowed to mandate some basic benefits and pay and safety rules, but most of the rest left up to business.

And once unions succeeded in getting laws passed for various things (work-week, OSHA, child-labor laws, etc), the role of unions should have diminished a bit. But it didn't.

Unions and union contracts should be able to:
Unions and union contracts should not:

---
---
The Death Penalty
I used to be in favor of the death penalty:
But the more I learn about our justice system, the more often it seems arbitrary and corrupt:
All of this makes me less inclined to trust the system, especially with the ultimate penalty.

It turns out that sentencing someone to death is more costly than keeping them in prison for life ! That's because of all of the trials and appeals, with the costs of courts and experts and police and lawyers.
DPIC



"They are really debating the firing squad right now. Of course there are a lot of people on the other side who say this is cruel and unusual. Cruel and unusual? This is America. What's more usual than getting shot?"
-- Bill Maher on the debate over the death penalty and botched executions




---
---
Courts and Prisons
Ways to improve the court/trial system in the USA:
Lawrence Lessig, excerpted in New York Times, 17 June 2012:

There is no one in the criminal justice system who believes that system works well. There is no one in housing law who believes this is what law was meant to be. ... The law of real people doesn't work, even if the law of corporations does. ... The law has convinced most Americans that the law is for the rich, except that part of the law that involves the prisons. We, all of us, have a duty to fix this. To repair this. To make it better.


From Dave Davies' interview of Adam Benforado: "The New Science Behind Our 'Unfair' Criminal Justice System":
Justin Peters' "The Unsettling, Underregulated World of Crime Labs"
A.C. Thompson, Mosi Secret, Lowell Bergman and Sandra Bartlett: "The Real CSI: How America's Patchwork System of Death Investigations Puts The Living At Risk"
Frontline/ProPublica "The Real CSI" (about fingerprint analysis, expert testimony, etc)
Tovia Smith's "Crime Lab Scandal Leaves Mass. Legal System In Turmoil"
Emil Karlsson's "Science and Pseudoscience in Law Enforcement"
The Life of the Law's "Forensics in Flames"
Mark Joseph Stern's "Forensic Science Isn't Science"
Conor Friedersdorf's "CSI Is a Lie"
Dahlia Lithwick's "Pseudoscience in the Witness Box"
Radley Balko and Roger Koppl's "Forensic science is badly in need of reform. Here are some suggestions."
Nathan J. Robinson's "Forensic Pseudoscience"
Ryan Gabrielson and Topher Sanders' "Common Roadside Drug Test Routinely Produces False Positives"

Lie detector (cartoon)
Miranda rights (cartoon)




Excerpt adapted from Adam Benforado's "Unfair: The New Science of Criminal Injustice"
Dave Davies' interview of Adam Benforado: "The New Science Behind Our 'Unfair' Criminal Justice System"
Jordan Michael Smith's review of Adam Benforado's "Unfair: The New Science of Criminal Injustice"
David Feige's "The Problem With Bail"
Martin O'Malley's "Criminal Justice Reform"
David Feige's "The Myth of the Hero Cop"
Ken Schwencke and A.C. Thompson's "More Than 100 Federal Law Enforcement Agencies Fail to Report Hate Crimes to the FBI"
Prisons:
Cameras:
---
---
Politics Of Sex
I'm struggling to understand why we approve of certain sexual practices and outlaw others. Maybe it's a struggle to understand where moral codes come from.

Why are these things illegal or considered immoral?
I think these reasons have been given for making them illegal or considering them immoral:
Feargus O'Sullivan's "Across Europe, a Growing Sense That Legalized Prostitution Isn't Working"
John Aziz's "Will prostitution go the way of marijuana reform?"
Jordan Weissmann's "The Internet Has Already Revolutionized Prostitution. But Could Better Apps Make It Truly Safe?"
The Straight Dope's "Is there a case for legalizing prostitution?"
Conor Friedersdorf's "The Case Against Encouraging Polygamy"




---
---
Immigration


I think the USA Immigration policy should be:
Lucas Jackson's "The truth about America's illegal immigrants"
Illegals destroying this country

There's a good case to be made that immigration (of Muslim refugees) has been going too fast in Europe. See for example Sam Harris speaks with Douglas Murray (MP3).










---
---
Abortion
Factual and practical items:


Moral and theological items:


Arguments pro and con:


From Shannon Dingle's "I'm pro-life. And I'm voting for Hillary. Here's why." (9/2016):
From Eric Sapp's "Hillary Clinton Is the Best Choice for Voters Against Abortion" (10/2016):
From /u/sillypantstoan on reddit in 2012:



From /u/chefranden on reddit in 2017:



From Jim Wright:


If gun transactions were like abortion


---
---
Breaking up the huge tech corporations


The case for breaking up the tech giants (Google, Facebook, Apple, Amazon, Microsoft):



Why we should break them up:


How to break them up:


Along with breaking them up:


Arguments against breaking them up:


Scott Galloway talk
Pivot's "I love Amazon. Let's break it up"
Kate Cox's "Antitrust 101: Why everyone is probing Amazon, Apple, Facebook, and Google"
Thomas Philippon's "The U.S. Only Pretends to Have Free Markets"







Search my site: